Análisis de la satisfacción con respecto a una maestría de una universidad de Lima desde la perspectiva de sus egresados
Palabras clave:
satisfacción, involucramiento, servicios académicos, egresados
Resumen
La presente investigación busca analizar la satisfacción de los egresados de una maestría. Partimos de la noción de que las percepciones sobre el proceso de aprendizaje son determinantes para entender la satisfacción sobre un servicio académico recibido. Planteamos un marco conceptual que integra la teoría del involucramiento de Astin (1985) y la satisfacción estudiantil que prioriza los servicios académicos de Walberg (1981) y de Aguer (2016). En ese sentido, realizamos entrevistas a profundidad para entender el fenómeno. A partir de ello, planteamos que la satisfacción de los servicios de maestría analizada depende de la enseñanza académica y el desarrollo emocional.
Descargas
Los datos de descargas todavía no están disponibles.
Citas
Abreu, L., Flores, G., y Lozano, B. (2014). Grandes temas de reflexión para el posgrado actual [Ponencia]. Seminario - Taller Internacional sobre gestión de la calidad del Posgrado, Santo Domingo, República Dominicana.
Aguer, J. (2016). The impacts of quality teaching on student satisfaction on higher education on South Sudan [doctoral thesis, Trident University International]. https://jacobajangphd.files.wordpress.com/2016/05/jacobs-dissertation-research.pdf
Aguirre, J., Castrillón, F., y Arango, B. (2019). Tendencias emergentes de los posgrados en el mundo. Revista Espacios, 40(31), 9-18. https://www.revistaespacios.com/a19v40n31/19403109.html
Alhassan, I., Sowley, E. N. K., Yakubu, R. N., y Kassim, B. A. (2018). Analysis of Graduate Satisfaction and Experience with Higher Education Services in a Ghanaian University. The European Journal of Educational Sciences, 05(04), 14-27. https://doi.org/10.19044/ejes.v5no4a2
Alves, H., y Raposo, M. (2007) Conceptual Model of Student Satisfaction in Higher Education. Total Quality Management & Business Excellence, 18(5), 571-588. https://doi.org/10.1080/14783360601074315
Amirazodi, F., y Amirazodi, M. (2011). Personality traits and Self-esteem. Procedia - Social and Behavioral Sciences, 29, 713-716. https://doi.org/10.1016/j.sbspro.2011.11.296
Anderson, E., Cornel, C., y Rust, R. (1997) Customer Satisfaction, Productivity and Profitability: Differences between Goods and Services. Marketing Science, 16(12), 129-145. https://doi.org/10.1287/mksc.16.2.129
Appleton-Knapp, S. L., y Krentler, K. A. (2006), Measuring student expectations and their effects on satisfaction: the importance of managing student expectations. Journal of Marketing Education, 28(3), 254-264. https://doi.org/10.1177%2F0273475306293359
Astin, A. W. (1985). Achieving educational excellence. Jossey-Bass Inc.
Astin, A. W. (1999). Student involvement: A developmental theory for higher education. Journal of College Student Development, 40(5), 518–529.
Bateson, R., y Taylor, J. (2004). Student involvement in university life—Beyond political activism and university governance: A view from Central and Eastern Europe. European Journal of Education, 39(4), 471-483.
Benjamin, M., y Hollings, A. (1997). Student Satisfaction: Test of an Ecological Model. Journal of College Student Development, 38(3), 213-229.
Berman, E. (2012). Creating the Market University. Princeton University Press.
Cañedo, T., Figueroa, A., Villalpando, D., y Zavala, C. (2008). Evaluando la enseñanza en el posgrado. Reencuentro, (53), 63-74. https://reencuentro.xoc.uam.mx/index.php/reencuentro/article/view/675
Chadwick, K., y Ward, J. (1987). Determinants of consumer satisfaction with education: implications for college and university administrators, College and University, 62(3), 236–246.
Cruz, V. (2014). Tendencias del postgrado en Iberoamérica. Ciencia y Sociedad, 39(4), 641-663. https://doi.org/10.22206/cys.2014.v39i4.pp641-663
Cuéllar, Y., y (2016). La educación de postgrado como necesidad social. tendencias y retos ante la universidad latinoamericana contemporánea. Revista Conrado, 12, 129-134. https://conrado.ucf.edu.cu/index.php/conrado/article/view/383
Dávila, M. (2012). Tendencias recientes de los posgrados en América Latina. Teseo.
DeShields, O., Kara, A., y Kaynak, E. (2005), Determinants of business student satisfaction and retention in higher education: applying Herzberg's two-factor theory. International Journal of Educational Management, 19(2), 128-139.
Douglas, J., y Douglas, A. (2006). Evaluating teaching quality. Quality in Higher Education, 12(1), 3-12. https://doi.org/10.1080/13538320600685024
Elizalde, M., y Peralta, N. (2018). Estudio sobre inserción profesional y académica de graduados de posgrado de la Facultad de Psicología de la Universidad Nacional de Rosario (Argentina). Educación, 27(53), 92–106. https://doi.org/10.18800/educacion.201802.006
Esteban, E., Rojas, A., Piñero, M., y Callupe, S. (2021). Tendencias y desafíos de los programas de posgrado latinoamericanos en contextos de COVID-19. Revista Venezolana de Gerencia, 26(93),123-138. https://www.redalyc.org/articulo.oa?id=29066223009
Gil, J., García, E., y Santos, C. (2009). Miradas retrospectivas de los egresados sobre la educación superior. Revista de Investigación Educativa, 27(2), 371-393. https://www.redalyc.org/pdf/2833/283321906006.pdf
Green, I., Vargas, A., González, R., Ruiz, R., Fruto, O., De Escobar, V., Sibrián, A., Aguilar, C., y Calderón, J. (2010). Estudio de seguimiento de egresados de programas de posgrado regionales centroamericanos. [Deutsher Akademischer Austausch - Dienst Servicio Alemán de Intercambio Académico, Bundesministerium für wirtschaftliche Zusammenarbeit und Entwicklung].
Gruber, T., Fuß, S., Voss, R., y Gläser‐Zikuda, M. (2010). Examining student satisfaction with higher education services. International Journal of Public Sector Management, 23(2), 105–123. https://doi.org/10.1108/09513551011022474
Hagenauer, G., Gläser-Zikuda, M., y Moschner, B. (2018). University Students' Emotions, Life-satisfaction and Study Commitment: A Self-determination Theoretical Perspective. Journal of Further and Higher Education 42(6). 808–826. https://doi.org/10.1080/0309877X.2017.1323189
Hartman, D. E., y Schmidt, S. L. (1995). Understanding student/alumni satisfaction form a consumers' perspective. Research in Higher Education, 36(2), 197–217.
Herdlein, R., y Zurner, E. (2015). Student Satisfaction, Needs, and Learning Outcomes. SAGE Open, 5(2), 1-10. https://doi.org/10.1177/2158244015580373
Hill, Y., Lomas, L., y MacGregor, J. (2003). Students' perceptions of quality in higher education. Quality Assurance in Education, 11(1), 15-20.
Khatur, J., y Kumar, U. (2018). A study of the personality in the postgraduate students. International Journal of innovative research explorer, 5(4), 75-80.
Lara, M. (1998). Estudio de personalidad del alumno de la maestría en educación del campus Sinalos [Tesis de maestría, Instituto de Monterrey]. Repositorio institucional TEC. https://repositorio.tec.mx/handle/11285/628760
Li, Y., McCoy, E., Shelly, M. C., y Whalen, D. F. (2005). Contributions to student satisfaction with special program (Fresh Start) residence halls. Journal of College Student Development, 46, 176-192.
Miller, T. (2005). Promoting Reasonable Expectations: Aligning Student and Institutional Views of the College Experience. Jossey-Bass.
Nachatar, J. (2018). What are the factors that contribute to postgraduate international students' academic success? A Malaysian qualitative study. Higher Education Research & Development, 37(5),1035-1049, https://doi.org/10.1080/07294360.2018.1467383
Pascarella, E., y Terenzini, P. (2005). How College Affects Students: A Decade of Research. John Wiley & Sons, Inc.
Ramírez, C., Reyna, M., García, A., Ortiz, X., y Valdez, P. (2011). Formación científica de los egresados de tres programas de Maestría en Ciencias: seguimiento a 10 años (1999-2009). Revista de la Educación Superior, 2(158), 91-103. http://www.scielo.org.mx/scielo.php?script=sci_arttext&pid=S0185-27602011000200006
Ramírez, J. (2015) Creencias y actitudes para el empleo de los/as estudiantes y egresados/as universitarios/as y satisfacción con la formación universitaria [Tesis doctoral, Universidad de La Laguna]. Repositorio institucional. https://dialnet.unirioja.es/servlet/tesis?codigo=120311
Ropper, K. (2006) The relationship between faculty use of technology as a teaching tool and student satisfaction in higher education [doctoral thesis]. Learn Tech Lib. https://www.learntechlib.org/p/123333/
Sánchez-Macías, A., y Veytia-Bucheli, M. G. (2020). Las competencias digitales en estudiantes de doctorado. Un estudio en dos universidades mexicanas. Academia y Virtualidad, 12(1), pp. 7–30. https://doi.org/10.18359/ravi.3618
Schertzer, C. B., y Schertzer, S. M. B. (2004), Student satisfaction and retention: a conceptual model. Journal of Marketing for Higher Education, 14(1), pp. 79-91.
Schuh, J. H. (2009). Assessment methods for student affairs. Jossey-Bass.
Schuh, J. H., y Upcraft, M. L. (2001). Assessment in student affairs: A guide for practitioners. Jossey-Bass.
Schweitzer, S. (2019). Student Satisfaction and Course Time: A Quantitative Survey Among Undergraduate Health and Human Services Students [doctoral dissertation, Northcentral University]. Northcentral University ProQuest Dissertations Publishing.
Seidman, A. (2005). Introduction. In A. Seidman (Ed.), College Student Retention (pp. 11- 14). Praeger Publishers.
Walberg, H. (1981). A Psychological Theory of Education Productivity. In Farley, F.H., y Gordon, N. (Eds.), Psychology and Education. National Society for the Study of Education (81-110).
Wiers-Jenssen, J., Stensaker, B., y Grogaard, J. (2002). Student Satisfaction: Towards an Empirical Deconstruction of the Concept. Quality in Higher Education, 8, 183-195. https://doi.org/10.1080/1353832022000004377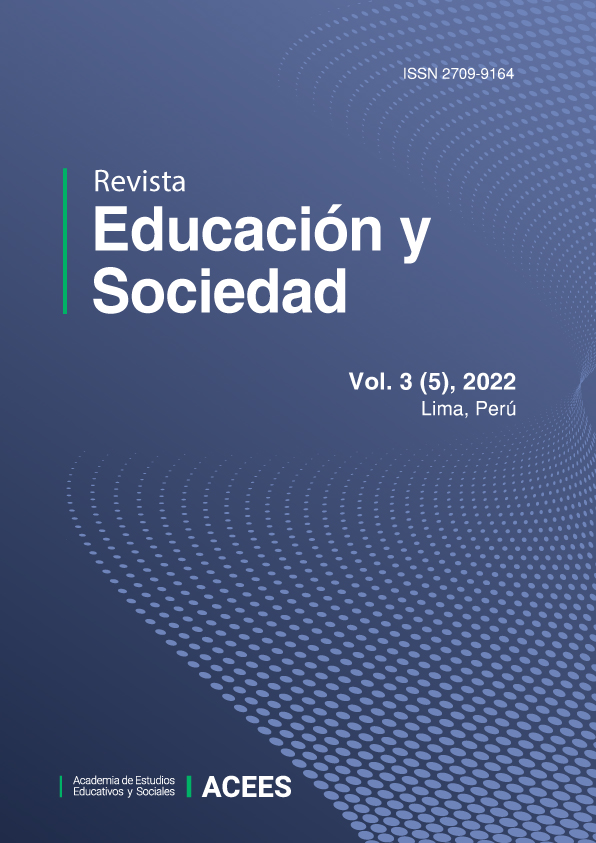 Cómo citar
Zambrano Aranda, G. (2022). Análisis de la satisfacción con respecto a una maestría de una universidad de Lima desde la perspectiva de sus egresados. Revista Educación Y Sociedad, 3(5), 23–36. https://doi.org/10.53940/reys.v3i5.89
Licencia
Derechos de autor 2022 Revista Educación y Sociedad
Esta obra está bajo una licencia internacional Creative Commons Atribución 4.0.